Clinch Trails Blog
Travel Topics
Blog Archives
Recent Comments
Sugar Hill: A Microcosm of Central Appalachian Ecology
Contact Information
Search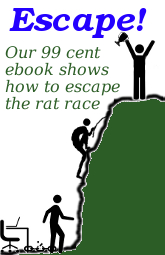 Sister sites:


Powered by
Branchable
.
Oyster mushrooms on a box-elder log

Have you ever noticed that once you identify a new species, you start seeing it everywhere? I wouldn't say that I've seen oyster mushrooms everywhere, but I was thrilled to run into another specimen at a different location along my daily walk.


This batch of oyster mushrooms was growing out of a hefty log in the powerline cut. A crew from the electric company chopped down the box-elder, along with many other trees, while clearing the line five years ago.

Unlike the elm snag that my first wild oyster mushrooms were growing on, this log is small enough that Mark and I will probably hoist it onto the golf cart and bring it home for regular harvest. For now, I just picked the fruiting bodies and cooked them into my favorite wild mushroom omelet recipe.


Want to be notified when new comments are posted on this page? Click on the RSS button after you add a comment to subscribe to the comment feed.