Clinch Trails Blog
Travel Topics
Blog Archives
Recent Comments
Sugar Hill: A Microcosm of Central Appalachian Ecology
Contact Information
Search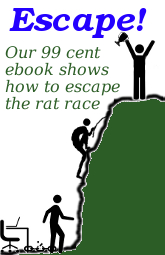 Sister sites:


Powered by
Branchable
.
Japanese Knotweed
Although the animals are the most obvious feature of the east half of the River Trail, a few plants are bound to catch your eye. In particular, you will have good views of an invasive plant that every naturalist should know. Japanese Knotweed grows in dense stands along some sections of the Clinch, crowding out all native vegetation. Although entirely unrelated, Japanese Knotweed bears a superficial resemblance to Giant Cane, and the knotweed tends to create conditions a bit reminiscent of the canebrakes that would have once grown in the same habitat. Unfortunately, while canebrakes were home to many native plants and animals, Japanese Knotweed is a newcomer shunned by North America's flora and fauna.

Once Japanese Knotweed catches a foothold along a river or streambank, it is nearly impossible to eradicate. The plant spreads rapidly using underground rhizomes that can grow for up to two dozen feet in every direction from the parent plant, pushing new shoots up through pavement or anything else that gets in its way. During floods, small sections of the Japanese Knotweed stems break free, sprouting and creating new infestations downstream. Some land managers control their Japanese Knotweed populations using herbicides, but application is tricky along important waterways like the Clinch where chemicals dripping into the water could wipe out downstream mussel populations.

Scientists are stumped, but the ingenuity of common folks should not be taken lightly. Peter Becker had been eating the young shoots of Japanese Knotweed along the streams near his home in Germany for years before he even realized that the plant was not native to the region. He cooked up stems into delicious jams that tasted a bit like rhubarb as well as creating a savory relish to be eaten with meats and stir-fry. He was thrilled to find out that Japanese Knotweed is a great source of resveratrol, a chemical that is also found in red wine and that many people think may be the cause of the wine's healing properties. Peter was less thrilled, though, when he learned that his gourmet feast came from a plant poised to wipe out a rare streamside plant community.

Rather than wringing his hands and giving in to the invasive plant's spread, Peter created a profitable business that eradicated knotweed, fed the community, and lined his own pockets. He chose a couple of pockets of knotweed to experiment on and then settled in for a season of hard work, cutting down the old stalks and burning them in the winter, then harvesting young shoots that sprouted back from the roots for ten weeks in the spring and summer. The harvested shoots were turned into his jams and relishes and sold at farmer's markets and then through a store and restaurant, while less tasty shoots that popped up later in the summer were turned into resveratrol supplements. Meanwhile, native plant seeds were sown in the knotweed patch so that they could become established during the year of constant knotweed harvest. Two years later, the knotweed in each patch had been eradicated at a profit of 140 euros (approximately $186) per square meter. True German ingenuity! A similar system could be implemented in our region to deal with our own knotweed infestation if anyone had the time and inclination to give it a shot.



Want to be notified when new comments are posted on this page? Click on the RSS button after you add a comment to subscribe to the comment feed.