Clinch Trails Blog
Travel Topics
Blog Archives
Recent Comments
Sugar Hill: A Microcosm of Central Appalachian Ecology
Contact Information
Search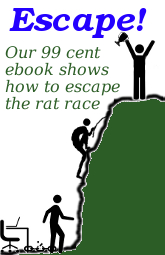 Sister sites:


Powered by
Branchable
.
Introduction to Sugar Hill's Ecology
Two enthusiastic ten year olds, a sullen teenager, and half a dozen adults carefully tip back logs and flat rocks. We spread out across the moist woodland, each hooked by this ecological treasure hunt. Then ---

"I found one!" hollers a ten year old. She holds aloft a black salamander liberally sprinkled with silver speckles.

"I want to hold it!" demands her brother, the formerly sullen teenager.

"You probably shouldn't..." I begin, but before the words make it out of my mouth, the brother has the Slimy Salamander carefully cupped in his hands.

"...hold it," I end my thought, too late to prevent super-glued fingers on two kids. The Slimy Salamander is named for its ability to secrete a sticky substance that it uses to deter predators, I explain to the crowd. Birds and other critters often opt to spit the salamander out rather than gulp down the goo. Unfortunately for us, the sticky secretion dries like glue on your hands after you handle the salamander. The teenager no longer seems keen on holding his sister's prize, so we put the salamander back under its log and head up the trail in search of other ecological adventures.

An hour later, I turn my hikers loose. One mother lags behind and heads my way. Uh oh, I think, she discovered the super glue effect. But all she wants to talk about is how much she and her kids enjoyed the hike. "I learned so much!" she gushes. "But I know I won't remember a tenth of it."

I have been leading nature hikes in the central Appalachian mountains for nearly a decade, and I constantly hear this refrain. This website and book is the solution to that dilemma. I have compiled tales that highlight the region's ecology so that you can peruse them at your leisure. Here, you will find all of the stories I tell on hikes, wrapped up into a trail guide to one of the most diverse tracts of land in southwest Virginia. So put on your hiking boots and head to Sugar Hill to see central Appalachia's diversity with your own eyes!


Want to be notified when new comments are posted on this page? Click on the RSS button after you add a comment to subscribe to the comment feed.