Clinch Trails Blog
Travel Topics
Blog Archives
Recent Comments
Sugar Hill: A Microcosm of Central Appalachian Ecology
Contact Information
Search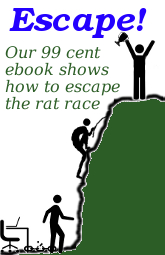 Sister sites:


Powered by
Branchable
.
Dodder
The southern half of the Loop Trail is truly red in tooth and claw, full of murder and chemical warfare. As you return to the parking area, you will pass by one more bloodthirsty species, this one a native plant.

The yellowish-orange vines of dodder are easily mistaken for a mass of fishing line --- they clearly do not appear to be a plant. As you probably learned in elementary school science, plants are green and feed themselves by turning energy from the sun into sugars through photosynthesis. Dodder does not do any of that. Instead, dodder twines around nearby plants and sends modified branches, called haustoria, into the support plants' stems. The haustoria suck nutrient-filled sap out of the host plants, feeding the parasitic dodder.

Not every plant is a suitable host for the dodder, though. Scientists are not quite sure what makes a host plant tasty or disgusting to the twining dodder, but they do know that dodder can tell the difference. After making an initial loop or two, the dodder decides to either send haustoria into the support plant or just grow a longer tendril, reaching out toward a more tasty specimen. A recent study by Penn State researchers suggests that dodder reacts to airborne chemicals when determining the suitability of a host plant --- in essence, smelling its prey.

In our area, dodder is most often found in moist habitats where it seems to thrive on hosts including jewelweed and Clearweed. Dodder can also be an agricultural pest, choking crops such as potatoes. In my own garden, I have a terrible time keeping the dodder off my carrots --- once it catches hold of one carrot leaf, the dodder branches off in several directions to penetrate every nearby plant. After a week or so, the result is a tangled mass of dodder covering a few choked carrot plants. Despite the devastation, I cannot help being intrigued by this parasite that acts nothing like a conventional plant.


Not pictured:
Dodder
Scientific Name: Cuscuta sp.
Family: Cuscutaceae (Dodder Family)
Habitat: Moist, open areas
Blooms: June to October
Want to be notified when new comments are posted on this page? Click on the RSS button after you add a comment to subscribe to the comment feed.