Clinch Trails Blog
Travel Topics
Blog Archives
Recent Comments
Sugar Hill: A Microcosm of Central Appalachian Ecology
Contact Information
Search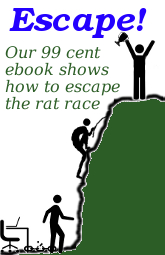 Sister sites:


Powered by
Branchable
.
The Asian Invasion
Like identical twins separated at birth, China and the eastern United States share many similarities. Our climates and geology are remarkably similar, and as a result plants and animals from China often find it easy to grow and thrive in Virginia's landscape. So I was not surprised to discover that most of our invasive plants originated in Asia. Autumn-Olive and Japanese Honeysuckle are two members of this "Asian Invasion" that we could have done without.

Autumn Olive is easily recognized by the silvery scales that coat the undersides of the shrub's leaves. The plant was first introduced to the United States in 1830, but it seemed to be a well behaved guest until the Soil Conservation Service bred the "Cardinal" strain in 1963 and began to recommend planting Autumn Olive to reclaim strip mined land and to promote wildlife habitat. As the Soil Conservation Service promised, the numerous red Autumn Olive berries were beloved by birds, who gobbled them up and spread the seeds throughout the eastern United States. Today, Autumn Olive is expanding rapidly and is considered by many scientists to be the most troubling invasive shrub on the horizon.


Japanese Honeysuckle was introduced as an ornamental plant in 1806, and like Autumn Olive took decades before it started to encroach on native habitats. Despite that fact that the vine is now listed as an invasive plant in four states and can be found choking out native plants in most old fields in our area, I have seen it for sale in local nurseries within the past year.

I consider both Autumn Olive and Japanese Honeysuckle to be cautionary tales --- the ecologist's version of Little Red Riding Hood's "grandmother" turning out to be a wolf. I know I have already said this in an earlier chapter, but it bears repeating: Please try to stick with native plants in your landscaping, and whatever you do, steer clear of alien plants listed as providing "wildlife habitat." If the birds like their berries as much as the catalog promises, you may soon see that exciting ornamental cropping up in your neighbor's forest.



Want to be notified when new comments are posted on this page? Click on the RSS button after you add a comment to subscribe to the comment feed.