Clinch Trails Blog
Travel Topics
Blog Archives
Recent Comments
Sugar Hill: A Microcosm of Central Appalachian Ecology
Contact Information
Search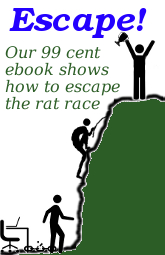 Sister sites:


Powered by
Branchable
.
I've had multiple people email to ask if they could use my Japanese Knotweed drawing in various non-profit ways. I'm always glad for anyone to use the images on this site as long as they're not making money off them and include a URL like the one shown here to credit the source.

In fact, I went so far as to scan the image again to make a high quality version, which you can download here. Apparently, kids will be coloring printouts at the Sudbury Weed Education and Eradication Team's Halloween fair this month. I can see how Japanese Knotweed would put a shiver of fear down any botanist's spine.



I've been outdone by a one ounce bird. All year, I've been struggling to decipher the mysteries of incubation then keeping the chicks alive until they're ready to fend for themselves.


Meanwhile, with little fuss, our song sparrow has hatched all four of her eggs and raised them until they're nearly fledged. I see her perched here and there with insects in her mouth at least once a day, and the chicks were so well fed that they only cracked their eyes sleepily when I stuck the camera lens down onto the nest.

All this despite a variety of disasters that I did nothing to avert. I forgot to mention the nest before Mark mowed the garden, but its location tucked up against a stump saved the day. The cats both came down to frolic in the mule garden as I planted there last week and our dog is always patrolling, but none caught the scent. Despite all of these potential catastrophes, four eggs turn into four chicks with nary a loss. Maybe I should ask my favorite sparrow if she's willing to take on an apprentice?


I'm glad this viceroy couldn't hear my thoughts as I rushed inside after the camera. "Another monarch! How exciting! I wonder if their populations are on the rebound this year?"

Of course, if you enroll in the witness protection program (aka practice Mullerian mimicry), I guess you want to be mistaken for someone else?

I should have realized that our habitat is just right for viceroys --- full of willows to host their caterpillars --- and less prime for monarchs. I find it hard to complain about this beautiful insect's identity when he opens his wings and the light shines through like sun in a stained glass window.


Our
chicken waterer
makes the perfect gift for the homesteader who's sick of poopy chores.
"Be careful! I almost stepped on you!"

I was walking down to the far end of the furthest garden patch to check on our three week old chicks, and at first I thought the little bird flitting out from under my feet was a baby chicken that had hopped through a gap in the fence to explore the outside world. But it flew up and away into the bushes --- a sparrow, not a chick.

"What were you doing down there?" I asked. (Yes, I do talk to birds, snakes, toads, and plants in the garden.) I crouched down to look into the grass that had grown up in a hard-to-mow spot beside a small stump and gasped in delight. Four tiny, speckled eggs, mere feet away from my oldest cucumber patch.

I barely caught a glimpse of the mother, but I'll assume she was a song sparrow since they're our most common yard sparrows at this time of year. If so, I only have to keep the mower away from her nest for the next three weeks --- 12 to 13 days of incubation, then 10 days of chick rearing before the mother turns the youngsters over to their dad and moves on to brood number two. (At this time of year, it might even be brood 3.) Sounds a bit like the way I foisted off my own chick-rearing duties on a hen last month....


Have you been hearing reports about the periodic cicadas and wonder if they'll show up in your neck of the woods? I stumbled across a great website --- magicicada.org --- that includes answers to every question you may have (and probably several you didn't even think to ask) about the currently active cicadas. For those of you who are technically inclined, 2011's edition is brood XIX, which is a type of thirteen year cicada that lives in the areas pictured on the map above.

Go here and input your state and county to find out when periodical cicadas have been sighted in your neck of the woods. In general, 13 year cicadas live in the south while 17 year cicadas are found in the north, but the Appalachian Mountains count as "the north" by cicada standards. Scott County, Virginia, (where I live) had 17 year cicadas flying in 2008, which means we aren't slated for another showing until around 2025. I guess I'd better practice patience.


Our
chicken waterer
keeps the backyard flock hydrated with a minimum of mess.
Wheat and barley

Sweat bee on chives

Check out my 99 cent
homesteading ebook
for simple projects to start you off on the path to self-sufficiency.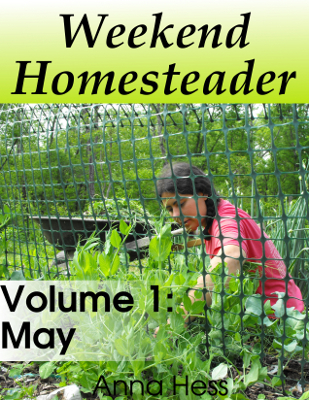 Although it's a bit off topic, I hope you'll forgive me plugging my newest ebook. The May edition of Weekend Homesteader is now available for 99 cents in Amazon's Kindle store! The series presents a simple and cheap project for every weekend of the year to provide stepping stones on your path to true self-sufficiency. As the introduction says:


This ebook, and others in the series, are full of short projects that you can use to dip your toes into the vast ocean of homesteading without getting overwhelmed. They're geared toward folks who need to fit homesteading into a few hours each weekend and would like to have fun while doing it. The projects cover growing your own food, eating the bounty, preparing for emergency power outages, and achieving financial independence. You won't be completely deleting your reliance on the grocery store after reading this series, but you will be plucking low-hanging (and delicious!) fruits out of your own garden by the time the exercises are complete.
You know your husband hasn't been toeing the party line and peeing on the compost pile when you see clusters of swallowtails like this. I don't mind foregoing the garden fertility for such a dose of beauty.



We live remarkably close to nature despite all of our mowing and weeding and manipulating the environment around our trailer. For example, a chorus frog moved into the drainage ditch beside the East Wing last week and yesterday a toad joined him. Blobby clusters of chorus frog eggs and long strands of toad eggs now grace the puddle, and I can't decide whether to hope this spring's relentless rain eases up so that we no longer have to wade through
ankle-deep mud, or whether I want it to keep raining so the tadpoles-to-be will turn into insect-eaters.

At night, a spider comes to spin her web outside our kitchen window. I watch as she teases long strands of silk out of her abdomen and ponder how much we change the natural world just by turning on a light to read by. In the end, I decide that I'm heartened by knowing that our disturbances don't just help the invasives, but also give our frogs and spiders a spot to thrive.


Our
chicken waterer
turns daily chicken husbandry from a chore to a pleasure.
I cut my teeth on the conventional theory of invasive plants and animals --- they outcompete native species and cause a decline in diversity. Species like kudzu are able to run amok in our climate because they have no native diseases and predators to keep them under control, so they can swallow up whole hillsides. The solution is eradication --- rip out every kudzu plant you see.

Lately, though, I've read several thought-provoking analyses of the invasive situation. In Edible Forest Gardens, Dave Jacke and Eric Toensmeier assert that invasives only gain a foothold if the ecosystem is already out of whack. According to these permaculturalists, the answer is not to spend weeks weeding Japanese stiltgrass out of your woods, but to discover what man-made change has made the invasive able to take over in the first place. In their eyes, my original view of invasive control is like sticking a band-aid on an ecosystem suffering from chicken pox.


Hugh Raffles' recent New York Times article considers invasives in yet another light. Raffles looks at species over a geologic time frame and reminds us that many of our "native" plants and animals originated elsewhere. Nature is constantly in flux, wiping out species that aren't able to deal with changing conditions while replacing them with hardier cousins. Taking a purely preservationist view of the earth --- trying to turn our current species assemblage into a static museum --- is bound to fail because species would migrate and die out even if we hadn't stirred the pot.

I think that both of these modern analyses of invasive species have merit...and problems. I love the idea of looking for and trying to fix the underlying problems that promote the spread of invasives, but what if the problem is forest fragmentation and can't be dealt with on the personal scale? Should we just throw up our hands and let our biodiverse woodlands turn into a monoculture?


And although Hugh Raffles' has a very good point about species flux over the course of geologic time, it's also true that extinction rates are currently at an all-time high, presumably because of human meddling. Raffles' argument is also strongly colored by his recent experience becoming an American citizen, and I think that he needs to be a bit more careful about drawing parallels between people immigrating and whole species moving in.

When it comes right down to it, my difference of opinion with all three of these commentators is responsibility --- I think that humanity is ethically bound to take responsibility for the environmental devastation we've caused. Looking at the bigger picture is always a good idea, but not if the exercise enables us to say "that kudzu-coated hillside isn't really our fault." We broke it, so we should do everything we can to fix it, especially if we can come up with innovative answers like Peter Becker's Japanese Knotweed elimination campaign.


Our
chicken waterer
is the POOP-free alternative for the modern chicken coop.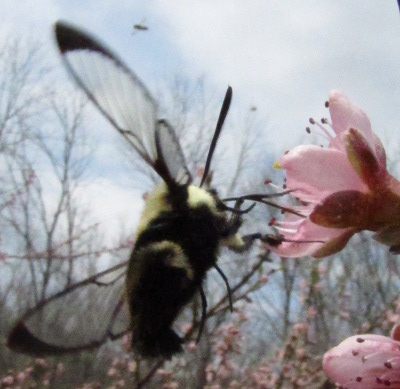 I posted a slew of photos of native pollinators over on my homestead blog, but couldn't resist adding one more over here. This bumblebee moth is a sphinx moth that mimics bumblebees, and I had the wool pulled over my eyes when I watched the insect from a distance. Up close, though, the moth is clearly un-bee-like in shape, and even more so in habit --- the bumblebee moth hovers in front of flowers instead of landing to suck up its dinner.

The bumblebee moth is also known as the clearwing moth, the hummingbird moth, and the bee hawk-moth. The moths are easy to identify to the genus level (Hemaris) because they fly in the daytime and hover in front of flowers, but it's tougher to get close enough to tell the four North American species apart. Check out Bugguide for more information on individual species.


Our
chicken waterer
is the POOP-free alternative that thousands of backyard chicken keepers swear by.


View other posts in our archives.